Engineering for One Planet (EOP) is a global initiative working to equip all future engineers across all disciplines with the fundamental skills and principles of environmental sustainability.  
The Challenge: Engineering education must cultivate engineers and inventors who design and build for the smallest environmental footprint possible. There is a growing need for engineers skilled in sustainable design.
The Reality: From new products to new buildings and modes of transportation, an engineer's decisions regarding design, source materials, production, distribution, and disposal can make a difference on whether their work contributes to or mitigates environmental impact.  
The Opportunity: Engineering institutions can integrate curricular change initiatives to better equip students to apply the core principles of sustainable design and environmental responsibility. 
The Vision: Transform engineering education to ensure all future engineers, no matter their discipline, are equipped with the skills, knowledge, and understanding to design, build and create in environmentally sustainable ways. 
The Framework: The EOP Framework (depicted below) offers a menu of learning outcomes designed for flexible adoption into engineering courses and programs across all engineering disciplines.  
The Relevance: The EOP framework will be used throughout EOP-MGP to guide faculty teams in the design and refinement of EOP curricula modules that can be integrated into engineering education programming at their institutions.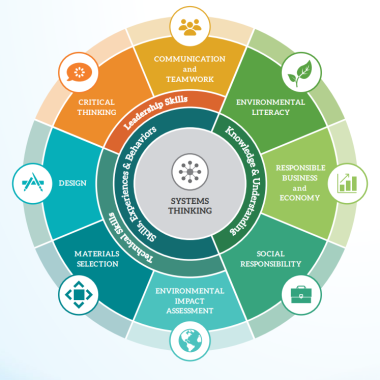 Co-developed with experts from academia and industry, the Framework was designed to be widely adaptable and adoptable by engineering faculty and administrators and is structured around core student learning outcomes under the categories of "systems thinking," "knowledge and understanding," and "skills experiences and behavior."  
Systems Thinking: Systems thinking is a critical approach for engineers to understand that designs rely upon and exist within systems, to identify the impacts and influences of the different and interconnected environmental, economic and social factors of the design system and to recognize that their designs themselves are systems. 
Knowledge and Understanding: Theories and concepts that are critically important to become competent, environmentally sustainable engineers are divided into topic areas of environmental literacy, social responsibility, and responsible business and economy. 
Skills, Experiences, and Behavior: A series of interdependent and interconnected skills, experiences and behaviors are divided into technical skills, including environmental impact measurement, materials choice and design, and leadership skills, including critical thinking, communication and teamwork.